Gosh I am so behind in this blogging business, it has been about 3 weeks since I meant to post this blog. But unfortunately work has been intense and our internet and phoneline have been cut off (shock horror much!)
So I'm actually writing this from the uni library. Yes I am in on my day off and in the library like a GEEK. Well I am a geek, but that applies regardless. I am not terribly happy to have missed my Tuesday morning lie-in, but que cera cera. Life goes on.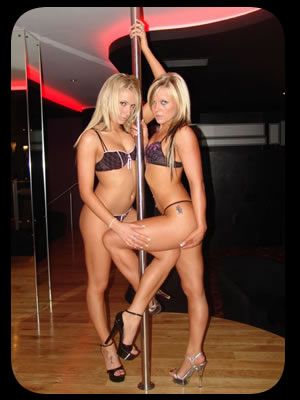 If you should ever visit a proper strip club (not one of those fabulously entertaining burlesque clubs or special event nights where the women are elegant, sexy and dressed in Agent Provocateur and custom made sequinned bikins with those amazing feather fans in jewel colours - think the film Gypsy) but a real old man in an overcoat, bouncers on the door, cliche type thing, the most important thing to remember is that the women will look good. I mean, it's their job, the better they look the more money they make. There will be naked bums, boobs and legs everywhere. It will all be smooth, hairless and toned from hours of pole-dancing training. It will be fairly intimidating (even if you are a guy).
I recently went to club in Cardiff for a friend's 21st. We were a group of about 20, mostly guys but a few girls including myself. I later spoke to the girls there about the struggle I had deciding what to wear, I mean full on sexy isn't going to even compete with the girls there, and jeans would mean a shake of the head at the door most likely.
The consensus was that smart-sexy-chic was the way to go. Too much leg/bum/cleavage and you risk looking try hard, like you're trying to out-sex the girls. This would leave you looking like you were a strip club reject. Never a good look!
However, you did need to have a little bit of flesh on show; a cheeky hint of cleavage or a stocking clad leg poking out of a pencil skirt or little cocktail dress. This was, more than anything, to remind any male company that 'hey, I'm a seriously sexy woman too!'
Altogether, the look to go for is one that says 'I'm not trying to fit in with the stripper girls, I'm trying to look a little more sophisticated, a little more titilating - without wearing a sparkly, thong bikini and putting my nipple in your mouth.'
Personally, I wore a monochrome pencil skirt that sat high on the waist, belted, with a black low cut top with 3 quarter length sleeves (hey it was Cardiff, I was cold!) and a lacy camisole peeping out of the top to lessen the cleavage impact, you know common decency applies in ALL situations. And my ubiquitous black tights and black mary-janes. A slash of red lipstick and bed head hair gave it a kinda sexy twist, but in a low key way.
Did it work? Well i felt at ease, I felt sexy, I felt classy. So I guess it did. Probably an 8 out of 10 overall. Higher heels, such as these...
would have made more of an impact. Toe cleavage, after all, is ALWAYS acceptable. But never mind, something to remember for next time.